La Presqu'île de Saint Mandrier
MOBILE HOME RENTAL IN SAINT MANDRIER
Discover our range of mobile homes for 2 to 6 people. Premium, Comfort or Classic, our mobile homes offer you all the comforts of home when you're on holiday.
Also accessible to people with reduced mobility, La Presqu'île offers accommodation specially designed to enable independence when moving around.
With a wide range of accommodation, the ★★★★ La Presqu'île campsite, offers mobile homes adapted to your needs and your budget.
OUR ULTIMATE CHALETS
Are you looking for comfort and peace of mind? Choose our ultimate range of well-equipped accommodation with TV, Wi-Fi and air conditioning. The Ultimate range is the ideal compromise between comfort and luxury… So, for an atypical and unforgettable holiday, choose our chalet rentals in Saint Mandrier in the Var and the irresistibly cosy accommodation that will delight small and large families without blowing the budget.
THE ULTIMATE RANGE:
Contemporary accommodation
High-end equipment
Covered terrace
Housekeeping service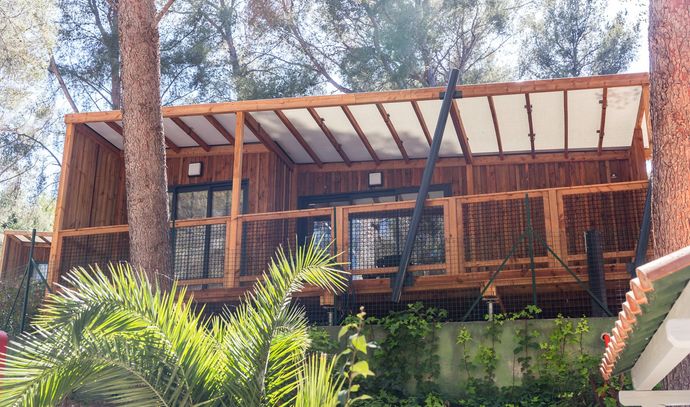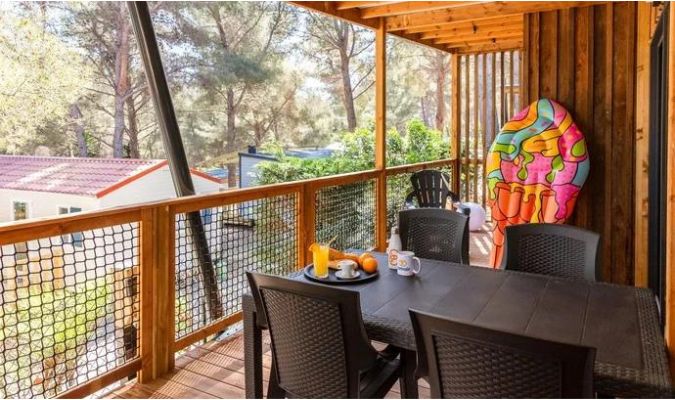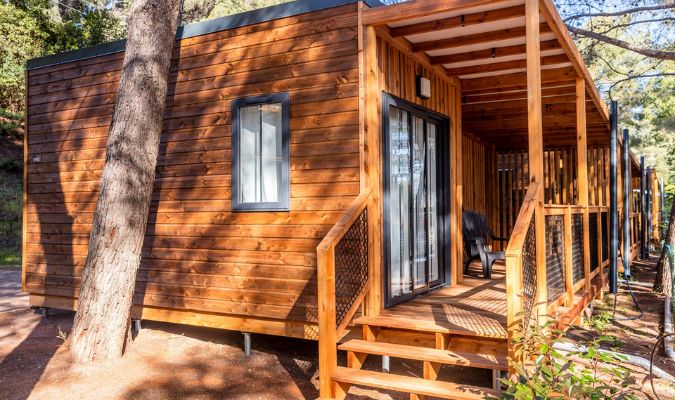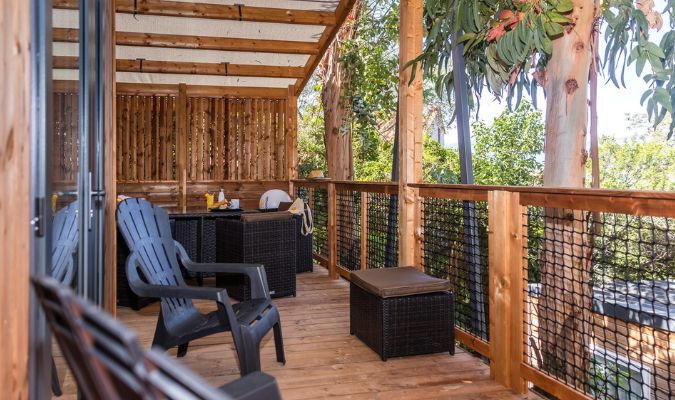 OUR PREMIUM MOBIL-HOMES
Book the best of our accommodation for your holiday in Saint Mandrier. Guaranteed to be less than 3 years old and refurbished in 2021, our Premium range mobile homes combine the comfort of exceptionally well equipped accommodation with the peace and quiet of a shady plot. It sleeps 6 people, making it rental accommodation suitable for family or friends. Our Premium mobile homes guarantee high-end personalised services.
THE PREMIUM RANGE:
All accommodation is air-conditioned
Recently constructed mobile homes
3 bedrooms
Housekeeping service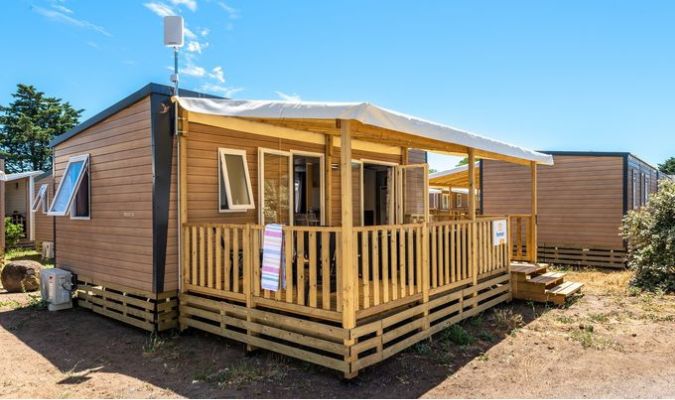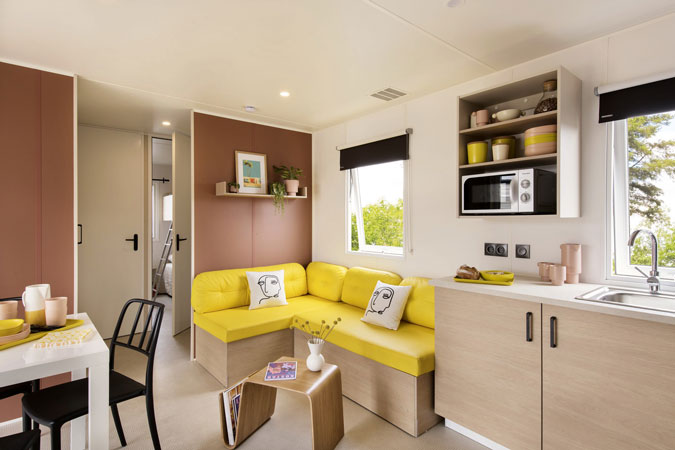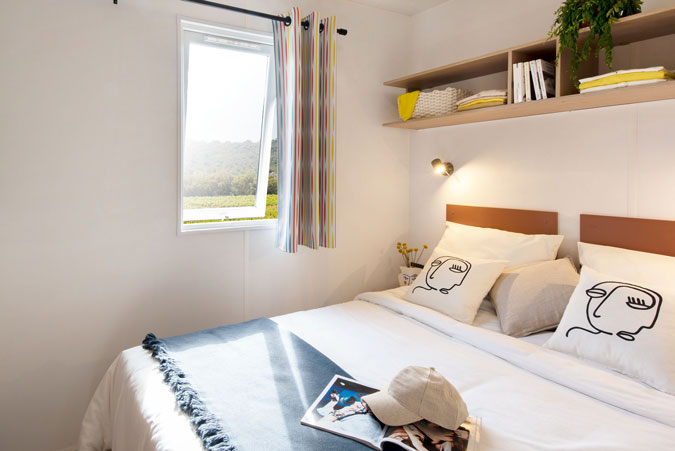 OUR COMFORT MOBIL-HOMES
Welcoming, functional and well-equipped, our Comfort range of mobile homes offer a generous size for maximum comfort. Depending on your needs, you can book a 2-bedroom mobile home (for 4 and 4/6 people) or a 3-bedroom mobile home (for 6 people). Each part of the accommodation has been designed and optimised to ensure the best value for money. To guarantee that everyone has a great holiday, we offer a mobile home that is accessible to people with reduced mobility.
THE COMFORT RANGE:
Mobile homes refurbished in 2021

.

Terrace
Mobile home for people with reduced mobility, on reservation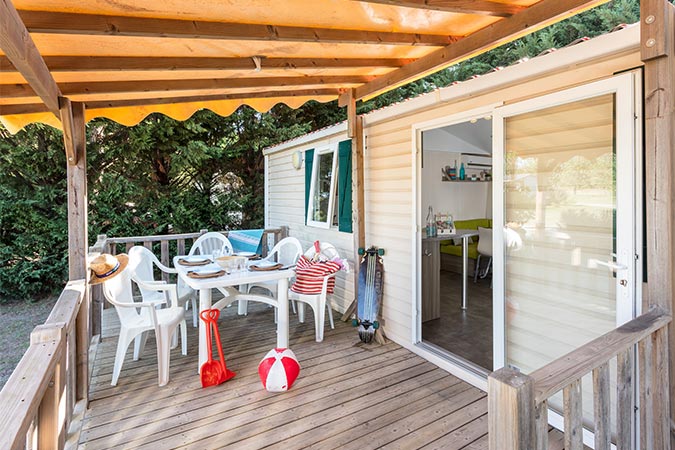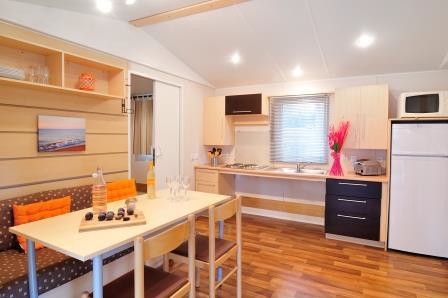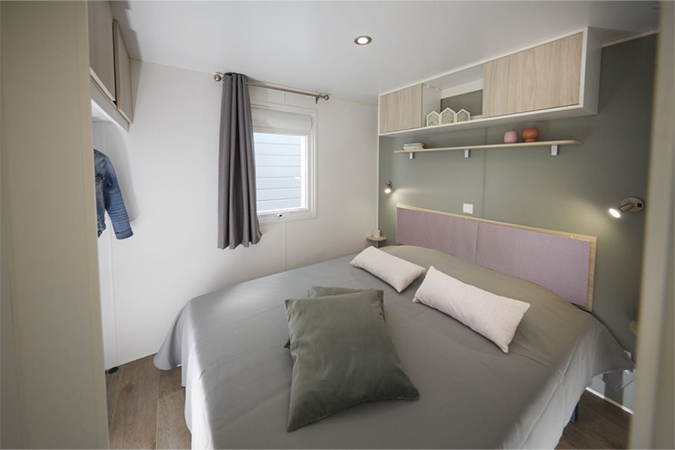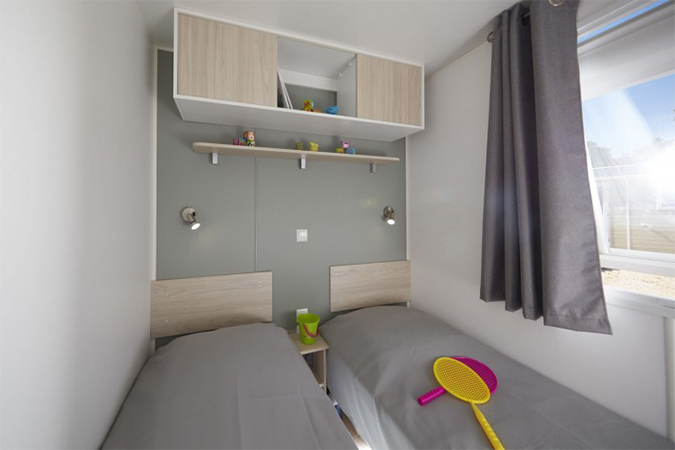 OUR CLASSIC MOBIL-HOMES
With a capacity ranging from 4 to 6 people, the mobile homes in the Classic range are popular with both adults and children. The Classic accommodation units have 1 or 2 bedrooms. Whether you're holidaying with your partner, with friends or family, you'll stay in mobile homes designed for your comfort. Sheltered by magnificent maritime pines, each plot has a private terrace. Book your Classic mobile home and enjoy a holiday that combines informality and relaxation.
THE CLASSIC RANGE:
Available in air-conditioned versions
Different sizes available
An optimised space

.